Allied Health
Occupational Therapy
The overall goal of Occupational Therapy is to maximise a student's ability and potential to independently participate in a variety of activities across the school day. This may be through improving the child's skills and/or adapting the environment to increase independence. Activities may be academic, such as writing skills as well as non-academic, including the development of social skills, sensory processing and self-care skills.
Our team works with teachers, education support staff and students in the following areas:
Assessments
Developing fine motor skills
Developing gross motor skills
Incorporating sensory processing skills into daily school life and promoting regulation skills
Increasing independence with self-care skills
Adapting school programs to increase independence and participation
Prescription of adaptive equipment
Play skills through the Imaginative Play Program (lower primary)
Speech Pathology
The Speech Pathology team at Jackson School support the development of students' communication skills to enable them to access the school curriculum to the best of their ability. We work primarily in the classrooms in collaboration with the teacher and ES.
Our team works with teachers and students in the following areas:
Assessments
AAC (alternative and augmentative communication systems, such as; iPad's , communication books or picture systems)
Pragmatics (social use of language)
Language (understanding and use)
Articulation (speech clarity)
Fluency (stuttering)
Play skills through the Imaginative Play Program (lower primary)
We encourage parents to share information about their child to assist us in providing a holistic and collaborative approach to therapy.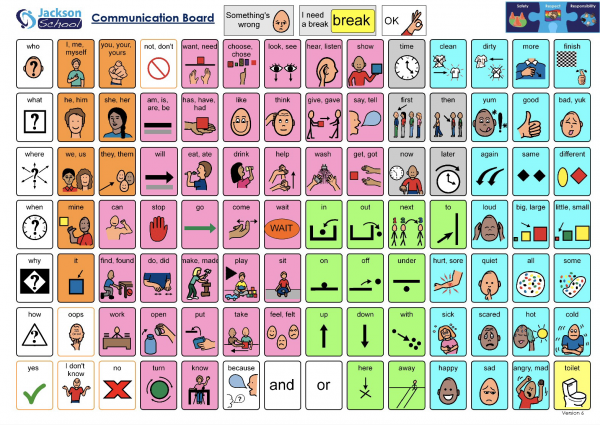 Imaginative Play Program
The imaginative play program focuses on imaginative play skills with the aim to develop the spontaneous pretend play abilities of our students. The program is adapted from Karen Stagnitti's 'Learn to play' program and is led by the students but supported by Allied Health, teachers and education support staff.
Play is an important part of our students daily lives and an integral part of their overall development. Through engaging in imaginative play our students are developing a range of different skills including communication, cognitive, emotional integration, fine motor skills and increasing opportunities for social interaction. The play skills that are the focus of Imaginative Play at Jackson are: ability to spontaneously self-initiate play, sequencing play actions logically, using objects as something else (object substitution or symbols in play), engaging with a doll or teddy character outside of themselves, integrating their play so a clear play script is evident, role play and socially interaction using play. As well as developing many different skills, the imaginative play program provides a fun and safe environment for our students to play and learn together.
Gross-Motor Program
Our PMP (Perceptual Motor Program) aims to develop students' perceptions and understandings of their world through movement and gross motor experiences. PMP develops the underlying skills necessary to support whole body (gross motor) skills, such as providing activities to improve: balance and coordination, strength and endurance, attention and alertness (sensory processing), body awareness, movement and motor planning. The program gives students a variety of experiences in seeing, hearing, touching, processing, making perceptual judgements and reacting through carefully sequenced activities whilst having fun with their peers.
Allied Health Resources
Therapy Grids
Getting Ready to Learn (OT Resource)
Communication Board (Speech Pathology Resource)
Daily Visual Schedule
First – Then with Visual Supports